What density of embroidery fabric should I choose?
What density of embroidery fabric should I choose?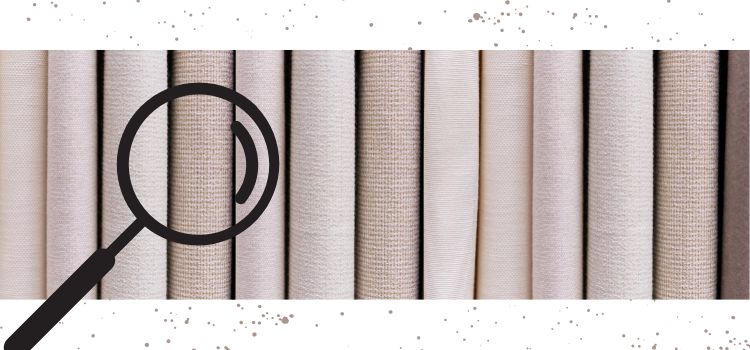 You can embroider practically on anything, from embroidery fabrics with a dense, thick weave, to the most delicate silk embroidery fabrics. In online stores you will find many tips: How to start embroidery? What accessories to choose for embroidery? Which embroidery is better: with a pattern printed on fabric or without a print which is called counted embroidery? This is very important information that will efficiently guide us through the maze of frustrating trial and error to which we are exposed. It is worth turning every problem into challenges that can be overcome, especially in the company of those who create and live with a passion for embroidery. That's why it's good that you are here with us, because together there is always more fun and interesting.
Why is the choice of embroidery fabric density so important?
One of the most important steps before embroidering is choosing the fabric on which to cross stitch. Many dilemmas may arise here. When buying an embroidery kit that already contains an embroidery fabric matching the size of a given pattern - this dilemma does not apply to us. However, when we get embroidery patterns ourselves, the correct selection of embroidery material is crucial. Other important choices depend on it: embroidery needles and the number of threads needed to embroider the pattern, depending on the selected canvas density for embroidery.
Aida canvas density under the magnifying glass



How to calculate canvas density? The density of the weaves is expressed using the conversion factor "ct", which indicates the number of meshes (the number of crosses in 1 inch) that falls on 1 inch (2.5 cm) of the embroidery material, e.g. 11ct means that the embroidery fabric contains 11 mesh per inch (2.5 cm) of fabric. We can meet the density indication in "centimeters", where 11ct corresponds to 44 stitches per 10 cm of the embroidery canvas, eg 11ct is 44 / 10cm. The greater the number of stitches per inch or 10 cm of the embroidery material, the denser the weave of the fabric, and the smaller embroidered crosses will be, e.g.
10 ct (40/10cm)
11 ct (44/10cm)
12 ct (46/10 cm)
14 ct (54/10cm)
15 ct (60/10cm)
16 ct (64/10 cm)
18 ct (70/10 cm)
20 ct (80/10 cm)
25 ct (100/10cm)

With or without a grid - which Aida to choose?
If you choose counted embroidery, you will find that before you start embroidering, it will be useful to prepare a canvas or Aida, i.e. mark the boundaries of the pattern and draw a grid to facilitate the embroidery. The following will be helpful in this: a washable marker or a self-vanishing marker. Details on how to prepare the fabric before embroidery can be found in Cross stitch embroidery course. Is there any way to facilitate this part of fabric preparation? Yes! A good solution is to buy a fabric that has a factory-painted grid, i.e. a mesh. Its size is always 10x10 mesh and it is washed in lukewarm water. It is a bit more expensive, but it will save our valuable time, which we would have to spend to prepare the fabric ourselves before embroidering.
Size of the embroidered picture makes the difference
For some embroiderers the size of the picture is measured in centimeters or inches, for others it is the size given in the crosses that counts. Both of these pieces of information are crucial. Why? By specifying the size of the pattern for embroidery in a measuring unit, i.e. centimeters or inches, the size of the picture may change depending on the density of the fabric on which it is embroidered. The size of the number of crosses used to embroider the image, regardless of the density of the fabric, will always remain the same. How to calculate canvas density? See an example.

The number of embroidery threads matters or is it just a matter of taste?
Many people try to answer the question: How many threads shall I use to embroider? We haven't heard a definite answer yet. Below we have a few hints, but the choice is always up to the embroiderers. Maybe you have a proven number of threads at a given density, share with us in the comment below the blog.
How many threads and needle size should I use for the density of the embroidery fabric? We propose:
6 strands (full skein of mouline) for density:
10 ct (40/10cm)
11 ct (44/10cm)
4 strands (divide the skein into 4 strands) for:
12 ct (46/10 cm)
the proposed sizes of embroidery needles for the above densities are: 20-22
3 strands (we divide the skein in half) for density:
14 ct (54/10cm)
15 ct (60/10cm)
the proposed sizes of embroidery needles for the above densities is: 24
2 threads (we divide the skein into 2 threads) for the density:
16 ct (64/10 cm)
18 ct (72/10 cm)
the proposed sizes of embroidery needles for the above densities is: 26
1 thread (we divide the skein into 1 thread) for the density:
20 ct (80/10 cm)
25 ct (100/10cm)
the proposed sizes of embroidery needles for the above densities is: 28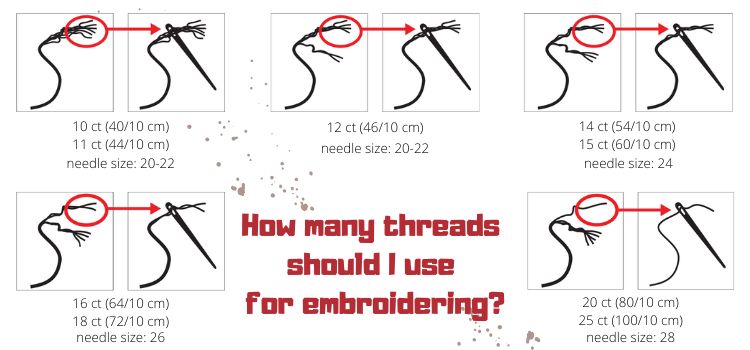 From general to detail - the painterly effect of embroidery without the use of paints
This embroidery looks painted! - because it is so, it is painted, but with a needle. We owe this wonderful "wow effect" not only to well-designed embroidery patterns. The density of the fabric, the number of colors used in the pattern and capturing many details are of great importance. The denser the embroidery canvas, the more details we can include in a few centimeters (inches) of fabric. Patterns embroidered with tiny crosses, one or two threads look more painterly, and landscapes seem more realistic.
Amazing properties of Aida 18ct
18ct is the finest Aida with distinct needle holes, and all the others - with a higher ct number - are embroidery fabrics that require thread counting. It is worth taking advantage of this unusual property of Aida 18ct with fine meshes. It is easy to embroider on it, because it has marked eyes, and at the same time it is difficult because the crosses are very small. However, it gives an incredibly realistic effect, because at the right distance, the crosses almost blend together like paint on canvas. In this way, you can create an image that will not differ much from a photo. It's a bit like a monitor - the smaller pixels it has, the better it displays to us! So it is worth spending a lot of time and patience to create at least one such embroidery in your life. Certainly no one will pass by it indifferently, bearing in mind that it is the work of human hands, not machines.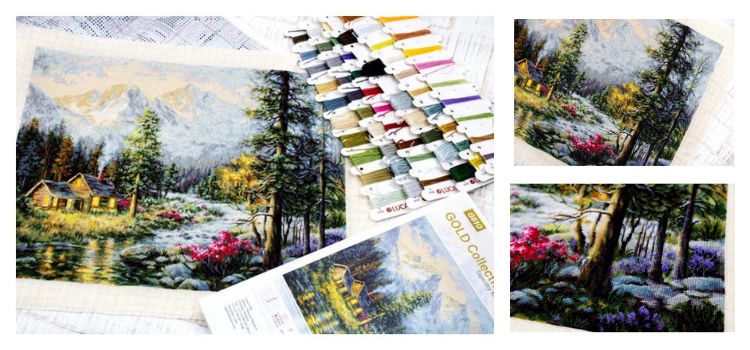 Experience with a needle and thread
Is cross stitch for everyone? Certainly YES. Embroidery is for beginners as well as for advanced users. Children embroider and adults embroider. The needle fits well in any male and female and even children's hands. It's best to see for yourself. For a good start, choose: an embroidery fabric with a thinner weave, e.g. from 10ct to 12ct, with a needle of the appropriate size and the amount of thread used. Take the embroidery course for beginners and get to work, or rather embroider! If the beginnings of embroidery are over, a wide range of possibilities is ahead of you. Just paint your pictures with a needle.
You don't have to look far to find the right embroidery material for you. All you have to do is click here and you will see embroidery canvas and Aida of different densities in front of your eyes. You're welcome!