Get to know the opinions about the Coricamo Cross Stitch application
Get feedback on the Coricamo Cross Stitch App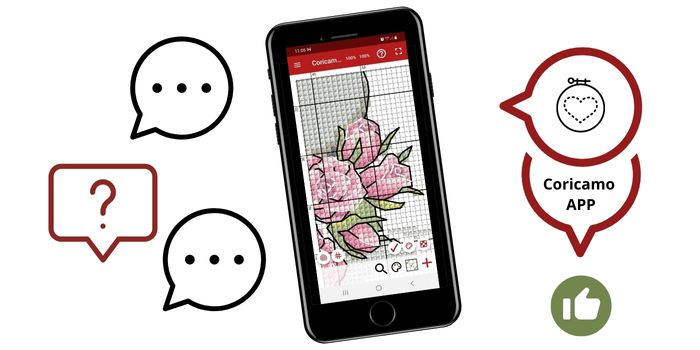 Dreams about a new method of cross stitching can also come true for you. Anyone who loves cross stitch will eventually be interested in the possibility of faster and better organized embroidery. Why? How many times do we hear this from you: "Life is not enough to cross stitch all these beautiful patterns." It doesn't surprise us, because how can you resist so many beautiful cross stitch patterns? We looked for a solution and worked diligently until finally we have a recipe for enough time for these embroidered beauties. Impossible?
You convince us that it is so. Faster embroidering, less tired eyes, good pattern visibility and individual adaptation to your cross stitch style. It is thanks to the decision to try to embroider differently. How? By using the Coricamo Cross Stitch mobile app to embroider the displayed pattern on your phone or tablet, instead of using paper sheets. For some, it is breaking the ice, and for others - a piece of cake, but certainly for many, it is a new quality of cross stitch and broad perspectives to have time for your favorite embroidery.
Every day there are more and more supporters of a new style of cross stitching, eco-style that protects the natural environment, without damaged pages, accidentally flooded or torn. There are also more and more positive opinions and constructive questions or new proposals to improve the application, which allows us to develop and make it work better.
Join the ranks of cross stitch enthusiasts with the Coricamo Cross Stitch app, as many have done:
Less mistakes... phew
Since the application is available and Coricamo patterns are available for the application, I only cross stitch with it and I cannot imagine that it could be otherwise. For me, the coolest feature is the ability to mark the place where I finished embroidering and marking the already sewn crosses. It is also very cool that I can turn off or on the backstitches, which sometimes interfere with the embroidery of the paper. Since I use the application, I make definitely fewer mistakes, I embroider faster, and the embroidery itself gives me even more pleasure than before. Urszula Kułak
Eco style - no more tousled patterns



The app really makes cross stitching easy. I am pleasantly surprised how it improves the work on a simple pattern, not saying on a much more difficult. Certainly the next one will be more demanding. Ps. My little toddler will not mess with the pattern anymore. Anna Suder

It can be bigger and colorful. Revelation!
This is another embroidery made with the application and I am delighted with it. The possibility of enlarging the pattern, selecting the embroidered color or the color that I already embroidered, and above all, turning off the backstitch lines when I do not need them. Revelation! Izabela Warciarek
Backstitch not as scary as on paper
The application is very well done. Everything can be found intuitively. I love to cross stitch with it because it makes my work easier and faster. This is a great convenience and the pleasure of embroidering is even greater. Backstitches aren't as bad as having an app. Only benefits. Thanks to the app, I like backstitches. I had a tablecloth that could be finished with backstitches, it was laborious from the pattern on the paper. I tried the app and I had the tablecloth before Easter. This is only a small part of what encourages you to work with the Coricamo Cross Stitch app.  Wioletta Wilk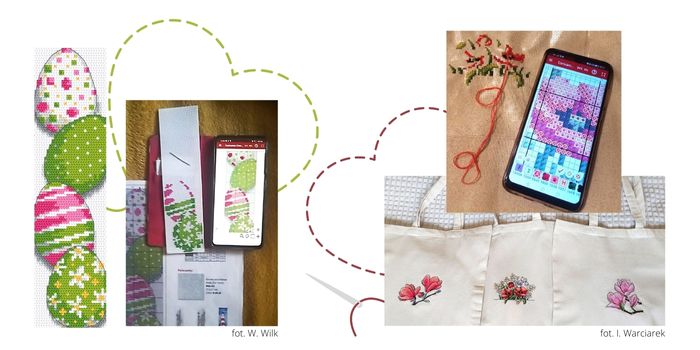 In love with the helper, speed is it!
Yesterday I started the first embroidery with the application. I am falling in love more with this helper every hour. It relieves the eyesight. It is not necessary to look for crosses of the same color. You can enlarge the pattern. Cool! Coricamo, I love your app. The picture is created much faster. I know where and what color I finished. It is much more difficult with a paper pattern. All in all, embroidering with the app gives me great joy. Dorota Kawska
Embroidery for "night owls"
I first embroidered with the Coricamo Cross Stitch app right after it was released, it was a free pattern with a Christmas stand. Now I'm embroidering "Sailing ship in the azure cove". I usually cross stitch from the app in the evenings, because that is when the veil comes most often. Embroidering with the app is better for night owls than embroidering with a pattern printed on paper because you don't have to strain your eyes that much. In the application, I also appreciate the fact that "lines" have been created, thanks to which you can easily find out in which square the work is progressing. Anna Rokita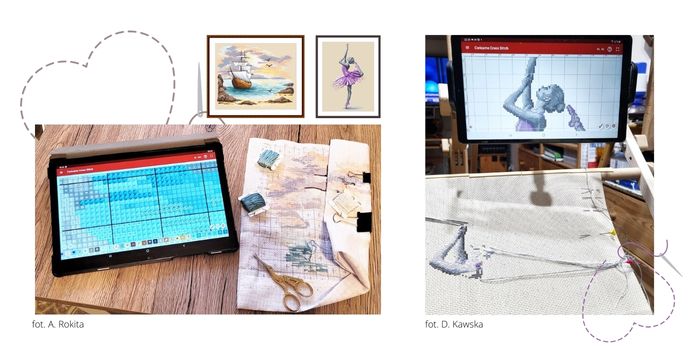 A modern solution to boredom?
I appreciate the Coricamo Cross Stitch application for being modern. I use it whenever it becomes boring to cross stitch from a piece of paper. My favorite function is the percentage conversion of how many % of a given color I have already embroidered, because this is what other applications do not offer. Since I embroider with the Coricamo app, it is easier and faster for me to cross stitch than from a traditional pattern. I recommend it to everyone embroidering with the Coricamo application. Katarzyna Ciepiela
Always clearly visible pattern
I work in Coricamo. I like my job very much, and I can't imagine my life without cross stitching. I like a creative approach to embroidery and all the news related to it. I was the first person to test the Coricamo Cross Stitch application. Now I can't imagine embroidering without it. Thanks to it, I almost don't make mistakes and the pattern is always clearly visible to me. Iwona Cieślar-Bury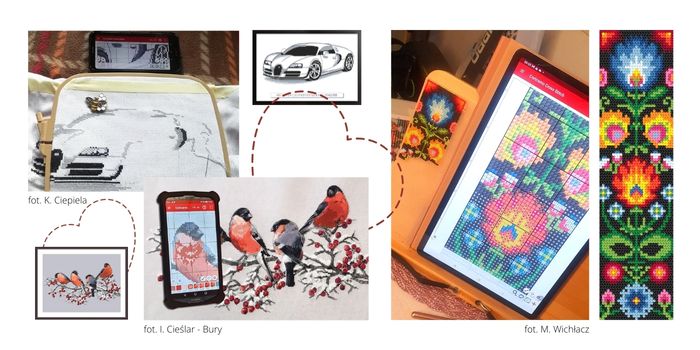 A wonderful time
A wonderful tool that makes a very wonderful and enjoyable way of spending free time. I love it. Marta Wichłacz
Still not able to display cross stithc patterns on your phone? You can change this by installing the Coricamo Cross Stitch application. Test it on beautiful free cross stitch patterns that are available after installing the application (it does not work on iPhone).
Maybe you are already embroidering without using paper patterns, looking at your tablet or phone? Great, congratulations! We invite you to share your impressions in the comment. What do you value the most in this way of displaying patterns? Already have your favorite feature,? Which one is it?
Also read:
Embroider with our application
Find out how to choose the right fabric for embroidery?